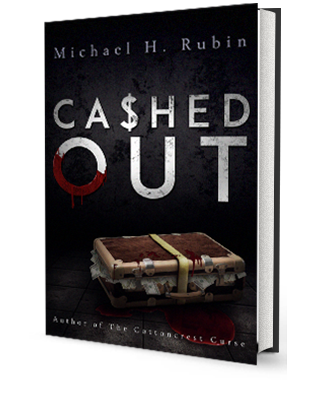 Critics and readers are raving. Read what everyone is talking about!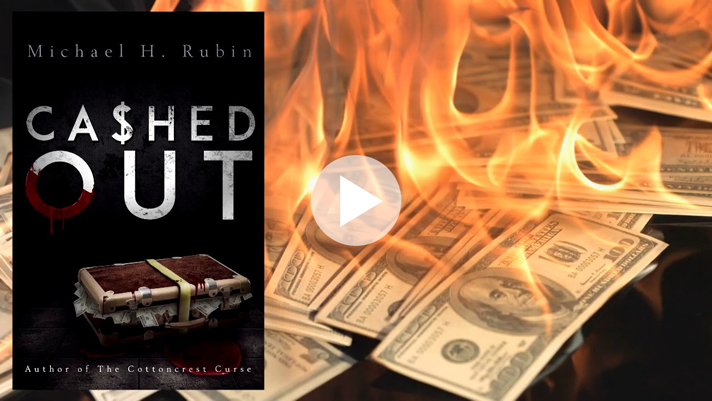 Michael Rubin's Cashed Out is a dark and gritty crime novel that is packed with plenty of suspense and enough turns to keep readers entertained from start to finish. Rubin slowly unveils one surprise after another on the way to a nail-biting final act that fans of Joseph Finder and Michael Connelly will appreciate.
– – The Real Book Spy Reviews
♥♥♥
If you like John Grisham and Michael Connelly's Lincoln Lawyer, you're gonna love "Schex" Schexnaydre – a down-and-out-attorney who breaks all the rules looking for some kind of justice. Fast, funny, and filled with twists and edge-of-your-seat suspense. Michael H. Rubin really nails it!
– – R.G. Belsky, author of the Gil Malloy mystery series
♥♥♥
Cash in on this thrilling read from Michael H. Rubin. Set in the sweltering heat of the Louisiana bayou, Cashed Out is enthralling. It keeps eyes glued to the pages and pulses racing along with lawyer Hypolite Schexnaydre ("Schex" is what his friends call him—or would, if he had any).
The novel begins with the high-profile murder of Schex's first client in some time, G. G. Guidry. Guidry has a lot of money, a lot of problems, and a lot of secrets. After meeting with Schex for a few minutes, Guidry leaves him with millions of dollars stuffed in a suitcase.  After he learns of Guidry's murder, Schex, who is down on his luck, is left to figure out what to do with all of the money, whether he can legally keep it, and how to get through everything alive.
Schex is a sketchy character with a lot of morally corrupt tendencies that make him hard to like, yet he is still easy to root for in the end. He has been burned by his promiscuous, manipulative ex-wife, Taylor—who, as it turns out, was in a relationship of sorts with Guidry—and has become an outcast in the legal community.
Conniving Taylor finds herself the prime suspect in Guidry's murder, and she turns to Schex for her salvation, though she's clearly more wrapped up in the event than she lets on. Only Schex can see through her. Though Taylor, like Schex, is set up as an antihero, her character proves to be more erratic and less relatable, even downright unlikeable. . . .
Rubin's writing style is both refreshing and interesting. The novel is written in a conversational tone, making it easy to absorb and to follow. Most characters have a developed, regional way of speaking that helps bring the Louisiana setting to life. Short chapters and a fast-paced plot make the page-turning here even more enjoyable, while the whodunit aspect adds to the intensity.
– – Foreword Reviews
♥♥♥
Michael H. Rubin catapults his main character, Schex Schexnaydre, into impossible situations, and the tension never lets up. Schex finds himself engulfed in a series of seemingly inescapable physical and mental traps. And then . . . neither our hero nor the reader has a way out of the growing, chilling suspense until the surprising conclusion.
— Steven W. Kohlhagen, author of "Where They Bury You" and "The Point of a Gun"
♥♥♥
Michael H. Rubin's new legal thriller is filled with great local color, entertaining characters, and plenty of action. CASHED OUT goes beyond the typical setting and deeper into Louisiana in a way that makes the reader feel she's being pushed down the bayou at breakneck speed. It's fresh, exciting, and well paced. I'll be watching for the next in the series for sure. Five Stars!
— Manning Wolf, author of the thriller, "Dollar Signs."
A nationally known legal ethicist, public speaker and humorist, as well as a full time appellate attorney,
Mike has had a varied career.
©2017 Michael H. Rubin. All rights reserved. Site designed and powered by
JKS Communications