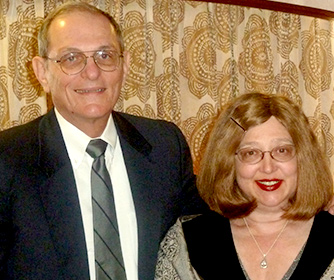 Although the acknowledged author of these novels is Michael H. Rubin, the books are, in fact, the result of the longtime collaborative effort of the husband and wife writing team of Mike and Ayan Rubin.
Their debut novel, THE COTTONCREST CURSE, is a historical thriller published by the award-winning LSU Press in 2014. Its story line takes place from the 1860's through the 1960's and follows the exploits and travails of several generations of five families who own, work, or reside near the eponymous South Louisiana plantation.  THE COTTONCREST CURSE garnered the Book of the Year Gold Award at the annual meeting of the American Library Association in 2015, where it was named the top thriller/suspense novel published by a university or independent press.
Their second novel, a contemporary legal thriller entitled CASHED OUT, was released by Fiery Seas Publishing on August 15, 2017. The story's backdrop is an issue confronting many communities throughout the United States and around the world today—how to strike an appropriate balance between the need to attract and retain high paying industrial jobs while simultaneously safeguarding the health and safety of those who are employed at or live near such jobsites.
A nationally known legal ethicist, public speaker and humorist, as well as a full time appellate attorney, Mike has had a varied career. He has been a professional jazz pianist in the New Orleans French Quarter, a radio and television announcer, and an adjunct law professor. He won the Burton Award for Outstanding Writing given at the Library of Congress and is a member of the Author's Guild, the International Thriller Writers, the Mystery Writers of America, and the International Association of Crime Writers.
Ayan has had an equally varied career, having been a classroom teacher, an education administrator, a prolific grant writer, a developmental book editor, a nonprofit consultant, and, for almost three decades, the Coordinator of the Educational Services Division of Louisiana Public Broadcasting, a statewide television network, where she was responsible for initiating and then shepherding a wide variety of video projects from concept through script development and production to statewide and national broadcast.
Mike's breadth of knowledge about the intricacies of the law and his penchant for devising dramatic situations, combined with Ayan's unique ability to visualize and bring characters and scenes to life, make for taut tales with unrelenting twists and turns.
Because Mike's full time legal career and numerous speaking engagements keep them hopping, they write early in the morning or late in the evening, often discussing plot lines and character development during their daily 4:30 a.m. power walks. They are just as apt to draft and revise chapters while sitting in airports or hotel rooms as they are to do so in their adjoining home offices.
Together, Mike and Ayan Rubin have developed a unique literary voice that has captivated devotees of their page-turning thrillers. They have just completed their third contemporary thriller, ENFLAMED.
The protagonists and primary characters in each of their contemporary novels are descendants of the protagonists and primary characters in THE COTTONCREST CURSE, and the intoxicating action in all of their fiction plays out amidst the backwoods, bayous, big cities, and body politic of their beguiling home state of Louisiana.
A nationally known legal ethicist, public speaker and humorist, as well as a full time appellate attorney,
Mike has had a varied career.
©2017 Michael H. Rubin. All rights reserved. Site designed and powered by
JKS Communications